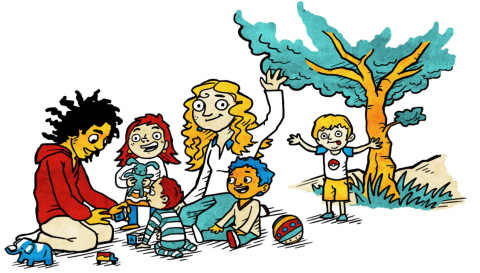 Affordable child care could soon be a reality for every family in Canada
Imagine: Quality child care that?all parents can afford.
A healthy start for every child. Support for all kids from all kinds of families.
What could child care look like if our federal and provincial governments actually invested in a universal and affordable system?
? ? Parents could take their children to inviting child care centres that provide educational and culturally-relevant programs.
? ? Child care services would be affordable and accessible in the workplace and in the community.
? ? Women could participate fully in the workforce, knowing that their children are in nurturing and safe environments.
? ? All child care workers could have decent working conditions.
As it stands, the majority of parents must rely on a patchwork?of largely unregulated child care, with no guarantee of quality. The cost of child care presents a crushing burden?for most families.
The Conservative government is proposing to spend $8 ?billion each year on measures that will do little to alleviate the cost of child care and nothing to create any new spots.
Canadian children deserve better. All families need affordable, quality child care. We need strong federal leadership to put in place a comprehensive child care system.
We invite you to join us and spring into action for child care during the week of May 10–17.
Everywhere across the country, trade unions, child care advocates, women's groups and other equality-seeking organizations will mobilize and organize to make this an issue for the federal election. Together, we can move our vision of child care from dream to reality.