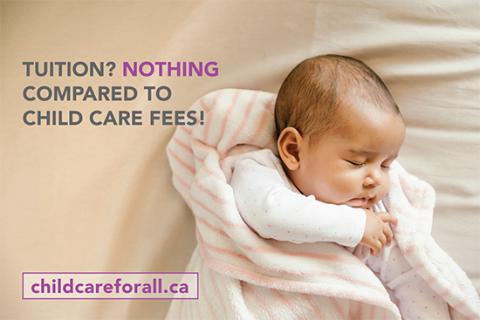 Our governments are talking about child care and we can ?have our say too. For forty years, PSAC has worked with the broader child care movement to fight for a universal, high quality child care system for Canada. We now have an important opportunity to achieve that goal.
Building a child care system for all
The federal, provincial and territorial governments are negotiating a Framework Agreement on Early Learning and Care, a Liberal election promise.
PSAC, along with the?Child Care Advocacy Association of Canada?and others, is pushing the federal government to take leadership and build a quality, affordable child care system that all families can access wherever they live.
We can make it happen!
It's time to take action! Send a message to your elected representatives to demand a national framework for early learning and child care that is universal and affordable for all.
What we want:
The support of the federal, provincial and territorial governments for the child care movement's shared child care framework. This means abandoning the patchwork, market-based approach to child care in favour of a high-quality, universal, non-profit child care system across Canada.
The support of all three levels of government for a major investment of public funds into child care— starting in 2017 and increasing each year until public spending equals 1 per cent of Canada's GDP.
Changes in how the federal government administers its own policy on workplace child care so we can get more child care centres in federal buildings and end the threats of closure for existing centres.
Get involved
Join our child care campaign and get the latest news by email.